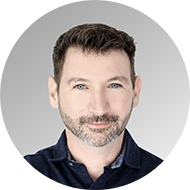 James McKenna, Ed.D.
Assistant Director, Professional Learning & Leadership Development
Areas of Focus:
Professional Learning Resources
Support for Implementing Universal Design for Learning (UDL)
James McKenna serves as the Assistant Director of Professional learning and Leadership Development for the California Collaborative for Educational Excellence (CCEE). Under the direction of Deputy Director Sujie Shin, Dr. McKenna will lead the planning, management, and dissemination of professional learning research, resource development, and service delivery for the California Collaborative for Educational Excellence. He will be working with CCEE staff, statewide agencies, partner organizations, and other stakeholders to ensure that the development and delivery of professional learning resources are responsive to the needs of local educational agencies across the state, are aligned with the CCEE's theory of action, have a focus on equitable outcomes for students, especially those who have been historically underserved, and are anchored in the principles of continuous improvement.

Prior to joining the CCEE, Dr. McKenna served as the Coordinator of Inclusive Design at the Los Angeles County Office of Education. In this role, James provided professional learning and technical assistance to educators across Los Angeles County and partnered with several other county offices and state programs to promote more inclusive, student-centered learning environments. His career began as a para educator in his hometown of Revere, Massachusetts, moving on to become a social science teacher, special education teacher, assistant principal, and site administrator.

James is a nationally recognized expert in Universal Design for Learning (UDL) and co-founder of the California UDL Coalition. He has spearheaded the application of UDL to professional learning and performance improvement. James earned a doctorate degree in Education Leadership and Education Psychology from the University of Southern California and is certified as a Master Instructional Designer by the Association for Talent Development (ATD).