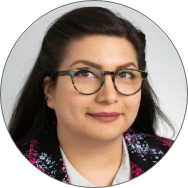 Rocio Gonzalez-Frausto
Assistant Director
Areas of Focus:
Direct Technical Assistance
Facilitated Instructional Review
Reports and Updates


Rocio Gonzalez-Frausto is the Assistant Director of Teaching, Learning, and Leading center for the CCEE. In this role, Gonzalez helps the team develop, support, and coordinate the Direct Technical Assistance (DTA) that local educational agencies (LEAs) receive from the CCEE. Gonzalez, provides support in other state-wide initiatives, she is a member of the Universal Preschool and Transitional Kinder Local Implementation and Promising Practice Design Team.

Before joining the CCEE team, Gonzalez was a Regional Superintendent providing academic and systemic support toTK-12 Title I schools in the Bay Area. Gonzalez supported school site leadership to implement continuous improvement practices to drive their instructional practice in this work.

In addition, Gonzalez served as a principal of middle and elementary urban charter schools, where she was a founding member. Gonzalez led efforts to implement continuous growth and development cycles for educators and students alike. Gonzalez also supported and helped develop the systemic processes and procedures to support student academic and social-emotional development.

Throughout her career in education, Gonzalez has led teams and collaborated with others to create educational opportunities for all students by supporting and developing school administrators and teachers.

Gonzalez began her educational career as an upper elementary and middle school teacher serving students in Richmond, CA. She received her Bachelor of Arts degree in English from the University of California, Los Angeles, with a minor in Education Studies, and her Master of Arts in Urban Education from Loyola Marymount University.