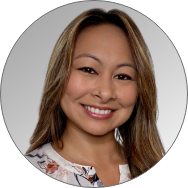 Franchesca Sonoyama
Program Specialist
Areas of Focus:
Systemic Instructional Review (SIR)
Franchesca Sonoyama is a Program Specialist for the CCEE. In this role, she provides programmatic and team support including process improvement, material development, and project management within the Teaching, Learning, and Leading Center (TLLC). Franchesca supports the implementation of the Systemic Instructional Review (SIR) for the TLLC team alongside partner LEAs.

Prior to joining the CCEE team, Franchesca served as program manager with a non-profit performing arts organization to provide equitable, enriching, and culturally relevant arts education to majority Title-1 schools in Sacramento and abroad. She worked closely with principals, teachers, school staff, families, and students to provide theatre arts education programs and arts integrated curriculum for teachers using the arts as a teaching and assessment tool in the classroom.

Throughout her educational career, Franchesca has been an advocate for equitable education and interactive learning. Her desire to serve the needs of all students and to support improvements in education state-wide has led her to CCEE.

She received her Bachelor of Arts degree in Communication and Dramatic Art from the University of California, Davis and a Master in Education in Curriculum and Instruction with a specialization in Integrated Teaching through the Arts from Lesley University.