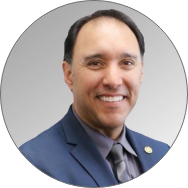 Matt J. Navo
Executive Director
Contact:

Leighann Nguyen, Executive Assistant to Mr. Navo


Matt J. Navo serves as the Executive Director for the California Collaborative for Educational Excellence (CCEE). Navo's knowledge and expertise in systems improvement comes from over 25 years of experience as a K-12 educator and leader. Navo served as the Superintendent of Sanger Unified School District from 2013 to 2018. Before assuming the role of Superintendent, he was a special education teacher, secondary instructor, counselor, resource teacher, junior high learning director, high school assistant principal, elementary and alternative education principal, director of special education, and area administrator.

Prior to his current role, Navo served as the Director of Systems Transformation with the Special Education Policy and Practice Division (SEPPD) at WestEd. He has experience working with districts and schools to guide systems transformation by developing strategies, structures, policies, and practices, aligned with the Multi-Tiered System of Support (MTSS) at the state, county, and local levels, to close the achievement gap for all students. Navo's expertise lies in aligning systems, building capacity for continuous improvement, fostering collaborative cultures and collective efficacy among teams, and establishing coherent and efficient models for districts and schools.

Navo has sat on various state-level committees, boards, and work groups. Navo has been a Governor appointee to the California State Board of Education (SBE) since 2019 and has served on the CCEE Governing Board, first as the Governor appointee from 2015 to 2017, and later as the Governing Board Chair from 2019 to 2021, appointed by the president of the State Board of Education. He also served on the California Practitioners Advisory Group (CPAG) and the Advisory Commission for Special Education, in which he served as committee chair for the California Special Education Task Force (Evidence-Based Practices).

Navo has been a keynote speaker and trainer for systems improvement across the state, and has presented at over twenty different conferences on special education and school reform. He is the author of Collective Efficacy in a PLC at Work (2021) and has contributed to various articles on school reform, systems improvement, Response to Intervention (RTI), Professional Learning Communities (PLC), and Explicit Direct Instruction (EDI), including ONE SYSTEM: Reforming Education to Serve All Students, Report of California's Statewide Task Force on Special Education (2015).

Navo's work has been highlighted for various accomplishments. Most recently he is the author of Collective Efficacy, in a PLC at work and Demystifying MTSS, A school and District Framework for meeting students' academic and social-emotional needs.

Navo received his bachelor's degree in education and his master's degree in special education from California State University, Fresno. He holds an array of credentials, including a Professional Administrative Credential, Multiple Subject Teaching Credential, a Professional Specialists Credential in Special Education, and a Supplemental Credential with an Autism emphasis.